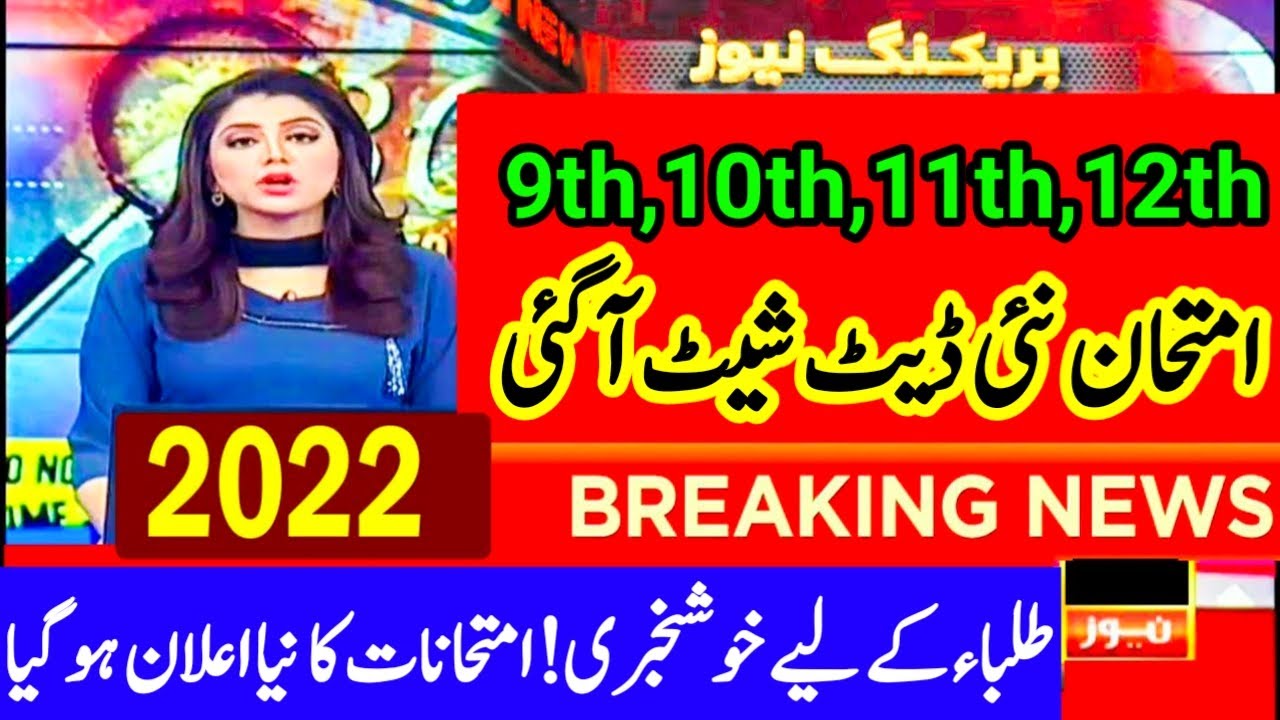 Class 10 Federal Board Date Sheet 2022 shared on this Preparation Point info Page. According to the latest announcement by the Federal Board, the exams of 10th class 2022 will start from 10- 05-2022.  The date sheet 10th class 2022 will be available on this page when it will be declared by the Federal boards. Federal Board Students of 10th classes should start preparing themselves for the annual exams 2022.
BISE Federal Board 10th Class Date Sheet 2022
Recently, several meetings have been done by the Government of Pakistan Inter Board Committee Of Chairman, Islamabad about the examination schedule of matric class for the 2022 academic year. In July 2022 the final decision has been taken by the committee according to which the matric class final exam will commence from July 2022 onward.
The committee has also announced that the delay in the exam session has come to face because of the 3rd wave of the Covid-19. However, students are informed that the final date sheet for this exam session will be announced almost a month before the final commencement of exams. Well, according to the said schedule it is expecting that the FBISE matric date sheet 2022 will be finalized in July.
The Class 10 Federal Board Date Sheet 2022 education ministry after taking reviews on the circulating news on social media platforms has addressed students to avoid accepting such fake news. However, the education ministry further addressed students to keep in touch with the boards' officials to get further updates regarding matric class date sheet 2022.
Matric 10th Class Date Sheet 2022 Annual Examinations for BISE Federal Board
Date
Day
Subject (1st Time)
Subject (2nd Time)
10-05-2022
Tuesday
Arabic / N.E.W
Civics / N.E.W
11-05-2022
Wednesday
English Compulsory
English Compulsory
12-05-2022
Thursday
Elements of Home Economics / N.E.W
N.E.W
13-05-2022
Friday
Persian/ N.E.W
N.E.W
14-05-2022
Saturday
Mathematics Science
General Mathematics
Mathematics Science
General Mathematics
16-05-2022
Monday
Chemistry
General Science
Chemistry
General Science
17-05-2022
Tuesday
Punjabi
N.E.W
18-05-2022
Wednesday
Biology
Computer Science
Biology
Computer Science
19-05-2022
Thursday
Islamiat Compulsory
Ethics (Akhlaqiat)
Islamiat Compulsory
20-05-2022
Friday
Economics / N.E.W
N.E.W
21-05-2022
Saturday
Physics
Islamic Studies (Optional)
Physics
Islamic Studies (Optional)
23-05-2022
Monday
Urdu Compulsory
Urdu Compulsory
24-05-2022
Tuesday
Education / N.E.W
History of Pakistan / N.E.W
25-05-2022
Wednesday
Pakistan Studies Compulsory
Pakistan Studies Compulsory
Class 10 Federal Board Date Sheet 2022
Time Schedule for 10th Class Matric Date Sheet 2022 Annual Examinations
Morning Session Paper will start at 8:30 AM
Evening Session Paper will start at 1:30 PM
Evening Session Paper on Friday will start at 2:30 PM
Latest Updates on 10th Class Annual Exams 2022
The timetable for the Matric Annual Exams for 2022 has been released by the Punjab Boards of Committee of Chairman (PBCC) the exams of Matric will start from May 2022 as per the schedule.
| No | Description | Month |
| --- | --- | --- |
| 1 | Announcement Date Sheet of 10th | May 2022 |
| 2 | Commencement of Annual Matric Exams | 10 May 2022 |
| 3 | Declaration of Matric Result | August |
Class 10 Federal Board Date Sheet 2022
Federal Board SSC 2nd Part Annual Exam 2022 Date Sheet has been uploaded. Download fbise 10th Class Date Sheet Annual Exam 2022. Federal Board SSC Part 2 Date Sheet Annual Examination 2022. Download Federal Board 10 Class Annual Examination Dat Sheet 2022.